Dreams and Determination of a great Missionary Mother Veronica and Mission taken up by the Sisters of Apostolic Carmel paved the way for the establishment of Providence College of Teacher Education For Women, Calicut, Kerala in July 2005.The college is affiliated to the University of Calicut (No. GAII/A2/2459/2004 dated 02.01.2004), with G.O. (Rt) No. 610/2005/ H.Edn dated 8.4.2005 and recognition from National Council for Teacher Education was obtained vide No.F.KL/SEC/N/281/SRO/NCTE /2004-2005/ 1447 dated 23.03.2005.
The B.Ed course was started in July 2005 with six optional subjects (English, Malayalam, Mathematics, Physical Science, Natural Science, and Social Science) with an intake of 100 students. The teaching Staff consisted of Sri. C.K.John as Principal, Smt. Shanty Jose (Lecturer in Psychology), Smt. Remmiya Rajan (Lecturer in Social Science), Smt.Anitha B.(Lecturer in Natural Science), Smt.Udaya Premraj (Lecturer in English), Ms.Rajitha K.R. (Lecturer in Physical Science), Smt.Rose Mary P.M .(Lecturer in Mathematics) and Ms.Deepa V.M. (Lecturer In Malayalam). The non teaching staff consisted of Rev.Sr.Mercy Augustine A.C (Administrator), Smt. Jesamma (Clerk), Smt. Jishi K.P.(Librarian), Smt. Sushama (menial staff), and Mr. Shijudas (Peon).
Over these years the college has been aiming at excellence in curricular and extra- curricular fields by setting high standards in academics and offering opportunities for prospective teachers to blossom into compassionate leaders who can ignite thousands of young minds.
As the motto of the College is "It's You Who Light My Lamp", every student of Providence College of Teacher Education go out into the world enlightened by the Divine Light with true knowledge and self realization. "Providence can provide, Providence did provide, Providence will provide".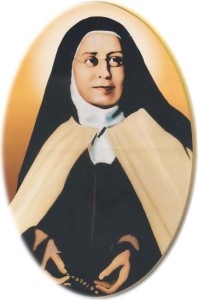 Mother Mary Veronica
Mother Mary Veronica of the Passion Foundress of the Apostolic Carmel (1823-1906)
Mother Veronica, nee sophie leeves, aws born in Constantinople on October 1st 1823 in a pious, cultured, English, Anglican family. She was gifted with singular talents of mind and heart which were nurtured by sound education and wide experience. She entered the congregation of the sister's of St.Joseph of the Apparition in 1851. Mother Veronica was ardent and full of zeal to work for the mission in India. She founded the Apostolic Carmel at Bayonne, France in 1868 after facing many hardships in her relentless search for God's will, Her life of loving surrender to God in challenging circumstances culminated in her holy death in 1906. Mother Veronica's heroic obedience to the will of God, her life of profound faith and prayer, her whole hearted commitment to the cross, her outstanding humility and zeal for the missions remain an inspiration to all those who, follow the footsteps of Christ, seek to offer their lives in loving service of humanity specially the less privileged.
Rooted in God & Ignite lives.
To mould Compassionate Leaders having Optimistic and Integrated Personality